Get started on your New Year Resolution to keep fit!!
Zen Academy will be having free Taekwondo trial sessions!
225 Joo Chiat Road
12th of February, Sunday
Fighter Class (Min Blue Belt)
9.30am to 12pm
Normal Class (Beginner & Intermediate)
1-2.30pm
Come on down to enjoy our family oriented training and get a complimentary Taekwondo uniform (worth $65) when you sign for our 3 month package!
For more information contact Ms Evonne at 91699213
Existing members whom recommend a friend will get a free uniform (Minimum 3 month package signed)
—————————————————————————————————————————
The 2016 National championship has come to a close. We have achieved overall second & Nichelle Tan was awarded the Best Junior Female Fighter of the Tournament by STF. She was honored to receive this award!
I would like to take this opportunity to congratulate all Fighters for their achievement!
We fielded 65 players and almost 90% of them brought a medal home. You guys have fought very well!! Do not be disheartened if you did not acheieve your desired results, lets work harder together and strive for your dream next year!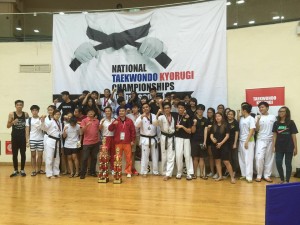 Day 1
GOLD
1. Javier
SILVER
1. Jet
2. Saksham
Day 2
GOLD
1. Rico
2. Luanne
3. Caleb
4. Shermine
SILVER
1. Ryan
2.. Hafiz
BRONZE
1. Sean
2. Ashley
3. Damien
4. Gerald
5. Rishit
Day 3

GOLD
1. Anselina
2. Sunny
3. Hao karh
4. Brandon
5. Clarence
6. Balqis
SILVER
1. Gavin
2. Dallen
3. Elton
4. Candice
5. Jovan
6. Justin
7. wan lin
8. Dillan
Day 4

GOLD
1. Chan Jun wei
2. Cheryl
3. Nichelle
4. Nigel
5. Yap Teng chung
6. Pei zhi
7. Kevin
8. Raphael
9. Denise
10. Salimah
11. Ckrystal
12. Jason Sir
13. Darius Sir
14.Rishabh
15. Jillian
16. Ryan Sir
17. Kimberly Mdm
18. Ethan sim
SILVER
1. Zi harn
2. Kai xin
3. Luqman
4. Evonne Mdm
5. Daniel Sir
6. Ronn Sir
BRONZE
1. Yap Teng chiong
2. Low yong Ming
All the fighters won't be able to fight without the credit of all the coaches that contribute their teaching and coaching.
Chief Coach Master Brian Peh
1. Master Chee Mian
2. Evonne Mdm
3. Rayner Sir
4. Jason Sir
5. Ryan Sir
6. William Sir
7. Yong ming Sir
8. Kimberly Mdm
9. Pei Wen Mdm
Referees
1. Winnie Mdm
2. Darius Sir
3. Jason Sir
Volunteer
1. Aqil
Last but not least, I greatly appreciate the help and guidance rendered by Master Darran and all the love and support from the parents!
—————————————————————————————————————————
Zen Academy is currently having both Taekwondo and Krav Maga Classes during the weekends at our new studio near Farrer Park MRT.
Taekwondo classes is open to both children (4 years minimum) and adults. Krav Maga Classes will be open to Adults aged 15 and above. The classes details are as followed
Venue: 568A Serangoon Road Singapore 218183
Taekwondo
Day: Every Sunday
Time: 9.30am to 12pm (Competition Training, Selective members)
12.30pm to 2pm (Regular Classes for all age and level)
Krav Maga (15 & Above only)
Days: Every Saturday
Time: 10.30am to 12pm
For our kids class, Zen Taekwondo especially emphasizes on teaching our  student important life values such as discipline, respect and positive  attitude which will help them in their lives. Zen Academy under the leadership of Mr Brian Peh showed  that it was possible to overcome the difficulties and with sound  strategies and quiet confidence, Zen netted 17 gold, 7 silver and 8  bronze medals to be ranked 1st in Singapore as of National Taekwondo  Championship 2013.
Zen Krav Maga originates from the founder of Pure Krav Maga, Mr Boaz  Aviram whom have taught the IDF (Israeli Defence Force). We teach our students to be proficient in Taekwondo  and self-defense to be able to protect themselves and their loved ones  if the need arise. Krav Maga students will learn lethal techniques to knock out your assailant in the most direct  way possible while keeping yourself safe.
For more information on our classes  or you may contact Ms Evonne (Secretary) at 91148165 for more  information/clarification.
For official news on Zen's 1st placing in Taekwondo, you may check out  http://www.stf.sg/modules/news/article.php?storyid=1245 for more information.
—————————————————————————————————————————
ZEN MARTIAL ARTS & FITNESS CAPTURES THE AMBASSADOR CUP
@ THE NATIONAL TAEKWONDO KYORUGI CHAMPIONSHIPS 2013
ZEN MARTIAL ARTS & FITNESS – THE CHAMPION TEAM!!
 The annual National Taekwondo Kyorugi Championships was staged over two weekends on 24, 25 and 31 August and 1 September 2013. The event which attracted over 800 participants saw many firsts. First, the title of the tournaments had been changed to include the Ambassador Cup which was sponsored by the Embassy of theRepublic of Korea as the challenge trophy to recognize the top team.  
This support from the Korean Embassy is symbolic of the strong ties it has with the Singapore Taekwondo Federation (STF).
Zen Martial Arts & Fitness under the leadership of Brian Sir, showed that it was possible to overcome the stronghold of of the reigning champions by breaking their 20 year top position streak.
Said an ecstatic Brian Sir: "I have many people to thank for the success of Zen.  They are: STF President Mr Milan Kwee and all the senior instructors for your guidance; Mr Tan Cheng Hui, my instructor, for giving me the fire for the sport; Mr Darren Lee for his unselfish technical advice since the formation of Zen; Mr John Ho for his strong encouragement for me to take my chance; my friends, especially Polo Teo and Baoling, for helping me in giving the players an excellent foundation to develop their skills which bear fruits in the competition; and last but not least, my team comprising Ms Irene, Ms Evonne, Mr Matthew Yap, Ms Jip, Mr Ronn, Ms Xanthe, Mr Willam, Mr Rayner, Ms Girlene Tan, Ms Winnie, Ms Kimberly, Mr Nicholas, Mr Tan and Mr Cheng and all parents & members for the hard work.  Deepest apologies if I have missed out anyone but it would be impossible for ZEN to achieve what we have today if not for the support and encouragement of its well-wishers.

The above article is an excerpt from THE SINGAPORE TAEKWONDO FEDERATION

AN OVERVIEW OF ZEN'S MEDAL HAUL FOR THE NATIONAL TAEKWONDO KYORUGI CHAMPIONSHIPS 2013

Day 1 (3 Golds, 1 Bronze)

Gahng Min Koo – Gold
Jet Peh – Gold
Rohan Malik – Gold
Manish Haridoss – Bronze

Day 2 (9 Golds, 2 Silvers, 1 Bronze)

Guo Xiao Ting – Gold
Mardiyah – Gold
Mark Sng Ming Han – Gold
Nichelle Tan Ying Xuan – Gold
Nigel Tan Jun Jie – Gold
Syahirah – Gold
Tan Jia Le Tim – Gold
Yap Teng Chung – Gold
Loo Yi Tatt – Silver
Wong Shu Qing – Silver

Day 3 (4 Golds, 5 Silvers, 3 Bronzes)

Wen Xuan – Gold

Day 4 (15 Golds, 1 Silver, 2 Bronzes)

Claris Yong – Gold
Evonne Kua – Gold
Guo Xiu Bin – Gold
Jason Chai – Gold
Khaw Xin Yue – Gold
Kimberley Yeak – Gold
Lim Ming Wei – Gold
Low Yong Ming – Gold
Pang Jia Leong – Gold
Ron Chua – Gold
Ronn Sng Li Heng – Gold
Sok Gech Nay – Gold
Tiffany Tay Shi Qi – Gold
Winnie Soo Wei Ni – Gold
Zhang Shuai – Gold
Ryan Ho Jun Yuen – Silver
Mandel Teo – Bronze
Yeo Kah Him – Bronze

We got a whooping total of 31 Gold, 8 Silver and 8 Bronze!
Congratulations to all medalist, you are already a winner for having the
courage to participate in the competition regardless of the medal you achieved.

We would like to express our deepest gratitude to Brian Sir for his constant guidance and coaching that
groomed up all of us to be the player that we are now. Thank you to all
the volunteers, referees, team manager and coaches as well for the hard
work, the competition wouldn't have been so successful without any one
of you.

Special thank you to My Wellness Studio for the sponsoring of Herbalife
Nutritional Products that helped to regulate our diet and Balmoral
Chiropractic Centre for providing treatment that allowed our players to
be in peak condition before their match our pre-competition preparation
period.

Let's work harder for next year Nationals 2014!

Team Manage: Ms Irene Tan, Ms Evonne
Coach: Ronn Sir, Xanthe Mdm, Evonne Mdm
Referees: Winnie Mdm, Kimberley Mdm
Volunteers: Chia Huay, Luqman
Partners & Supporters: Mr Cheng, Mr Tan, Doctor Matthew Kremer, Doctor Jenny Li, Ms Abigail, Mr Eugene and Mr Derrick

 

 ——————————————————————————————————————————————
ZEN ACADEMY @ THE INAUGURAL PHUKET OPEN 2013
Team ZEN Academy fielded a team of players for the 2013 Phuket Open tourney which was held on 26 & 27 Jan 12 in Phuket, Thailand.
The team did well and returned with a tonne of valuable overseas tournament experience.
Results are as follows, TEAM ZEN!
Gold Medal
POOMSE
Jet Peh
Team Zen Martial Art & Fitness Singapore
Junior Male Individual 8-9Year
POOMSE
Justin Peh & Isabel Felipas Rivas
Team Zen Martial Art's & Fitness Singapore
Junior Pair Poomsae 9-10 Year
Bronze Medal
POOMSE
Isabel Felipas Rivas
Team Zen Martial Art & Fitness Singapore
Junior Female 9-10 Year
POOMSE
Justin Peh
Team Zen Martial Art & Fitness Singapore
Junior Male Individual 9-10 Year
POOMSE
Evonne Kua
Team Zen Martial Art & Fitness Singapore
Senior Female Black Belt Individual
SPARRING
Evonne Kua
Team Zen Martial Art & Fitness Singapore
Senior Female Black Belt
38th NATIONAL KYORUGI CHAMPIONSHIP RESULTS
27 Gold, 11 Silver & 11 Bronze out of 78 Players.
62% achieved medals & 35% got Gold Medals.
We were also awarded 5 special awards.
1. Overall Female junior




2. Overall Female Senior




3. Overall Male Senior 2




4. Most Improved Club




5. Overall 2nd position!!!




Brian Sir would like to thank the following personnels.
Without their contributions, ZMAF wouldn't able to achieve such an awesome result!!
1. All the volunteers ( our Junior Luqman, Chia Huey, Joey, Zheng Jie, Elaine lee & Shuai Zhang )
2. Our referees ( Nicholas Lim, Xanthe Lin Huixian, Winnie Soo & Girlene Tan Mdm )
3. Coaches ( Dhunyanun Jip Premwhaew mdm, Matthew Yap Chim Peow Sir, Evonne Kua Mdm )
4. Special Players- ( Mattdrew Sir (despite sick still fight the match), Yulius Fernando Sir, Jip Mdm and Peiqi Mdm )
5. Special Coaches & Supporters ( TP Michael Sir, Alan Sir, Raiders Baoling Mdm & Polo Teo Sir, NYP Ms Lina last but not least our Darran Sir that had spared no effort in helping ZMAF these few months)
6. All our medalist Players ( Especially all our GOLD medalist )
7. All the parents that support ZMAF and their child to fight this National competition
8. Our Senior blackbelter that come in to fight ( Ronn Sir and Ming Wei Sir )
9. All our Anglicans friends that joined us for this competition
Although ZEN ACADEMY was established only 6 months ago, I am very thankful to all my students who did not quit Taekwondo and continued their dream with us for these past 9 Years.
Keep training & never stop fighting.
FOR HONOUR AND GLORY! ZENYP!
—————————————————————————————————————————

GRADING @ ZEN ACADEMY [AUGUST 2012]
Dear Zenders!
Congratulations to all of you for August's Grading! For those who did not get Double, do not be disheartened! Strive harder and train to be less nervous the next time! Photos after the results! 🙂
Present Grade TEN(10)
DOUBLE
Han Hao Yu
Lee Joon Kent
Lim Lee
Lim Qian Wen Cheryl
Ma Ce
Muhd Hazlan Shah B.M.R
Ng Li Ling Amanda
Xu Hong Jiao
Zhan Hui Hui
Zou Jingcun Jay
PASS
Kanapon
Joseph Chai
Chan Jun Wei
Chen Yi Qing
Cheng Benjamin
Cheng Joy
Cheng Travis
Chua Kiah Shang
Ho Yu Xuan
Huang Jun Long Jeremy
Li Biao
Li Ji Hong
Lim Yong Jun
Low Hui Ting Melissa
Luqman Al-Hakim Bin Abdul Jalil
Neoh Chia Huay
Nicholas Ng
Noi Yuan Sheng
Nural Hidayah Binte Zulkifly
Oh Bao Yue Cassandra
Orav Angeleika F Htun
Pang Qian Wen
Poon Hui Yi
Shi Thu Kai Jun Olyver
Sim Rong Hao Ethan
Sim Rong Zhi Dillan
Tan Wei Hao
Wong Jipson
Present Grade NINE (9)
PASS
Chi Yong Jia Eric
Gee Ryan
George Jebinsumith Shawn Daniel
Jack Hartness
Lee Melva
Oliver John Gill
Phua You Xian Clarence
Savit Agarwal
Shreya Kirankumar Shettigar
Present Grade EIGHT (8)
PASS
Kieran Goh
Saksham Bhasin
Josh Wong
Sean Wong
Present Grade SEVEN (7)
PASS
Carlos German
Devon Makepeace
Jaiganesh Prahlad
Joel Liew
Pulaputra Venkata Anushka
Santiago German
Present Grade SIX (6)
DOUBLE
Ow Xinwen Krystal
Zhang Hui Xin
Zhang Zi Wei
PASS
Chin Wei Liang
Chua Ron
Gahng Min Koo
Gan Wan Teck
Khoo Chun Fang
Lin Wei Juan
Mardiyah Binte Zulkifly
Daltone Tan
Yeo Heng Huat
Present Grade FIVE (5)
DOUBLE
Mark Sng
PASS
Arya Sachdeva
Gee Brandon
Goh Jia Ying
Julian Edward Hartness
Karen Michelle F Quirante
Tan Ser Han Alex
Present Grade FOUR (4)
PASS
Goh Cheng Ze
Zhang Hua Feng
Present Grade THREE (3)
PASS
Lai Quiling
Low Yong Ming
Rohan Malik
Sok Gech Nay
Teo Mandel
Teo Xuan Wei Shawn
Xie Shu Ya
Zhang Shuai
Present Grade TWO (2)
PASS
Alysson Rae Sarosario Lebardo
Alyssa Rae Lebardo
Angela Susan George
Anjali Elsa George
Aryan Dubey
Chua Siang Ern
Im Wai Hoe Peter
Lee Hui Erh Elaine
Lee Miao Qiao
Lee Miao Ying
Quek Chin
Shettigar Amisha Kirankumar
Sim Chun You
Yong Hui Wen Claris
JUNIOR 1st POOM to 2nd POOM
Clement Soo U-Jie
—————————————————————————————————————————

Tuhon Jasper De Ocampo, Close Quarter Combat seminar based on Pektiti Tirsia Kali System – Singapore 14/15.07.2012
1. Instructor:
Tuhon Jasper De Ocampo is the Chief Instructor of the Philippine Army Pekiti-Tirsia Close Quarters Combat (CQC) program. He has been teaching Pekiti-Tirsia to the Armed Forces of the Philippines since 1998 when he served as part of the Instructor Cadre of the first Instructor Certification Course for the Philippine Marine Corps Force Reconnaissance Battalion. He conducts training to Military Units and Law Enforcement agencies in Officers Survival Program like Military Edged Impact Weapon Tactical Combat and Law Enforcement Defensive Tactics and Control Dynamics. He is one of the longest serving active and respected Pekiti-Tirsia Tactical Instructor.
Pekiti-Tirsia Kali is a system of combat-proven strategy, tactics, and techniques executed through the principle of offense, counter-offense, and recounter-offense. Training instruction will provide students with clear and concise knowledge, understanding, and skills in blade fighting and its application to empty-hand as well as all-edged and impact-weapon combat. Training will cover the foundation methods of Pekiti-Tirsia and progress to advance application.
Check the article : http://ptkgo.com/PTKGO/Scout_Rangers_PTK.html
2. Seminar Content relevant for Law Enforcement, Police and Military:
Tuhon Jasper De Ocampo is Police and Military instructor and will seminar will cover:
– Police and Military module in single stick or Expandable baton
– Knife counter and control
– Handcuffing principle with or without handcuff
– Gun/Rifle (Dummy) tactical close combat applications
– Empty hand applications against empty hand or weapons
– Close quarter combat applications in enclosed/restricted areas
Those who will attend will understand the holistic approach with regards to weaponry to non weaponry and transference of technology from one weapon to another to empty hand and control.
3. Certifcation for Law Enforcement
– Certificate of Attendance will be issued.
Tuhon Jasper is authorized by the Pekiti Tirsia Kali Organisation to conduct trainings and issue certifications. He has vast track record with military and police combat training of a relevant and focused fighting system.
4. Instructor Program: Edged-Impact Weapon Control Dynamics; Pekiti Tirsia Kali; other focus areas
– Various levels of instructur program are offered
– Basic Instructor level for Police certification course (5-6 week program) is in Edged-Impact Weapon Control Dynamics
– Only pre-screened personnel allowed to attend the course
Confidentiality of participants is fully guaranteed.
More details can be provided during personal meeting.
5. Influence of Pekiti Tirsia Kali on Law Enforcement and Military
Since the 1990s, the Pekiti Tirsia system became a favorite of many Law Enforcement agencies, with the creation of Safety Baton and Edged Weapon Awareness/Strategic Knife Defense programs, which reduced the liabilities of officers and departments by teaching officers to target areas of the body that would be incapacitating and yet minimizing the risk of civil liability due. The system's headmaster Grand Tuhon Gaje was later appointed National Training Director for the Justice System Training Association and the U.S. Police Defensive Tactics Association and eventually became the Technical Advisor in the highly acclaimed police training video for edged weapon strategy and tactics "Surviving Edged Weapons".
Grand Tuhon Gaje returned to the Philippines in the 1990s and began teaching and promoting Pekiti Tirsia. His efforts culminated in Pekiti Tirsia becoming the only Filipino Martial Art system recognized as part of the official doctrine of the Armed Forces of the Philippines. In 1998 Pekiti Tirsia became the official close-quarters combat system of the Force Reconnaissance Battalion, Philippine Marine Corps.
The system is now being taught to other units of the AFP and the police special operations unit. The Philippine Force Recon Marines have trained US special operations forces and other combat units in close-quarters combat, demonstrating the effectiveness of the system.
————————————————————————————————————————————————————————
CONGRATULATIONS TO ZEN ACADEMY (TEAM ZENYP) FOR CLINCHING A TOTAL OF 

12 GOLD MEDALS

IN THE NATIONAL POOMSAE CHAMPIONSHIPS 2012
8 GOLD (individual) 
Zuo Kun Xuan
Lee Miao Qiao
Joey Ong 
Hui Xin
Zi Wei
Jet 
Justin
Girlene Mdm 
9 BRONZE (individual)
Ashley Kay
Lee Miao Ying
Ee Feng
Shi Min
Xanthe
Jip Mdm
Ryan Ho
Tyler Cheng
Brian Sir
3 SILVER (Team)
Shaine Lee
Ee Feng
Shi Min
4 GOLD (Pair)
Brian Sir
Girlene Mdm
Krystal Ow
Hui Xin
Family of 2
Brian Sir & Justin – Gold